We are a cooperative made up of filmmakers of diverse origins and genres. We develop films and training programs with the aim of putting historically silenced views at the center and thus generating more diverse visions of the world, with feminist, anti-racist, decolonial and libertarian perspectives.
We are committed to authorial cinematographic creation with authentic and risky narratives, fundamental in the representation of a plural and fairer world. Our processes are based on experimentation and collaborative and horizontal creation.
Contact us
Working members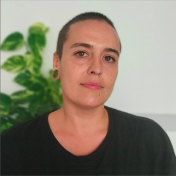 Lu Dapena González
Director, screenwriter, documentary filmmaker
Workers
No hi ha treballadores.
Collaborators
No hi ha col·laboradores